Day 1
After 24 long hours of trains, buses, planes, more buses, a 4 hour night at the airport and shopping for groceries/bottle of gas, I finally arrive in Kirk Yetholm, near the border English.
I'm really exhausted but also very happy to be here.
Every time I set foot on a trail, it feels great, like seeing a long-lost friend and immediately reconnecting.
This is where I'm happiest and the day I feel like I'm just ticking off tracks off a list, I'll stop.
I start badly, because there is a big climb quite quickly.
I mostly walk through farmland, but it's actually quite nice, with rolling green hills and sheep/lambs everywhere, reminds me of New Zealand, where I lived for a few years.
Ok turns out it wasn't a big climb, I'm just not in good shape…
I see a small sign indicating that I have just reached the highest point of St Cuthbert's Way at only 1207ft/368m!
I usually rest the first week/10 days of a trail.
I try not to walk more than 20 miles/30 km a day even if the terrain is easy or I feel good. It doesn't work for me, besides I'm not 20 anymore…
My original plan was to walk for 2 hours as I started around 5pm but I'm having trouble finding a good place to plant so I don't stop walking until 9pm.
I can tell my body wasn't ready for this after the day I had…
The Scottish National Trail is made up of existing trail connections and the St Cuthbert's Way is the first one I've followed.
Although it doesn't seem as popular as the Pennine Way across the border.
Day 2
It was a cold night and I'm really glad I brought a few extra layers.
In the morning, I come across a hiker walking the End to End Trail, a footpath spanning the length of the UK.
Although the Scottish section is a bit different from the SNT.
I had no idea long distance hiking was a thing in the UK, I thought only a handful of people hiked these trails each year.
But apparently there are more than I thought, with this hiker telling me he saw another person hiking the SNT just yesterday.
Today I walk on country roads and along a beautiful river.
I've been struggling with the accent a bit since I arrived.
And some people find it hard to understand me too…
Yesterday a bus driver couldn't understand my destination (Kelso, not even that hard to pronounce).
Day 3
I can really feel my body today…
I have never felt this kind of pain when starting a trail before.
I'm taking it easy so far, so I'll see how it goes.
It's the first time I've started a long hike without really being in good shape and I can see the difference!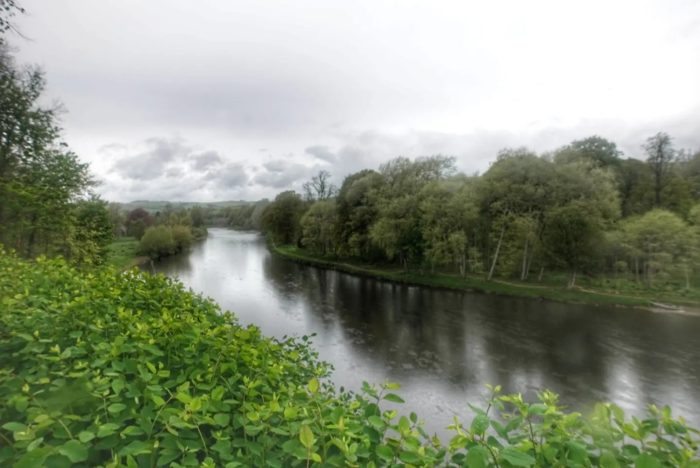 Today I walk through farmland and along rivers.
It actually reminds me of the Waikato section of the Te Araroa.
As a poster in Murray's office in Flight of the Conchords puts it: "New Zealand…Like Scotland, but further."
Passage through the pretty little town of Melrose, where I leave behind me the St Cuthbert's Way, to follow the Southern Upland Way.
I restock at Galashiels, then at the end of the day I get stalked by a pack of young bulls as I cross a paddock, but they end up getting bored.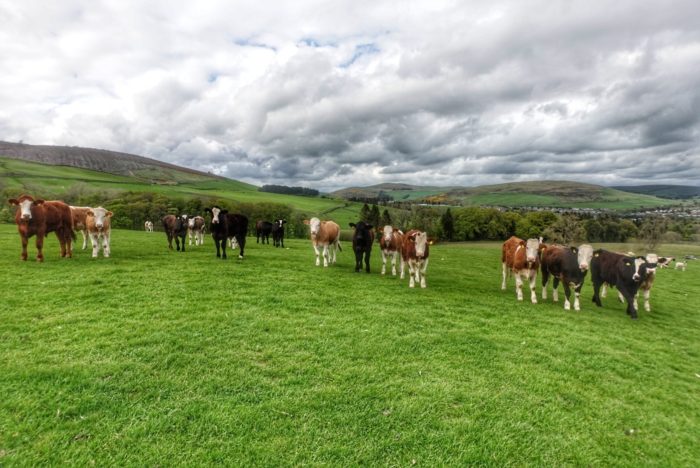 I find a fairly windy campsite, but that seems like the best option for a while, so I'm hoping for the best.
Day 4
Luckily for me, there was no wind.
I spend the morning walking on beautiful hills.
Golf being a popular sport in Scotland, I go through a few courses.
The weather hasn't changed much since I started. It's overcast and not very hot.
But not much rain yet, apart from a few light showers.
My body is still not very well, but I can feel a little improvement, so I will continue to do short days and relax for a while.
It's funny how even when you're feeling sore and tired, you still feel good on the trail.
This combination of pain and happiness is quite strange…
One I'm not really used to as I usually start my hikes in pretty good shape.
Although last November I hiked the Stevenson Trail in France and was really sick at first (first time hiking with a cold) and although it wasn't easy it was It was still better than spending days in bed falling asleep watching a movie.
Day 5
It's a fairly sunny and easy day.
My body is much better today, although I'm not going to start smashing in the miles now, that's a recipe for disaster. I will continue to calm down for a few more days and see how it goes.
Still going through farmland and hills.
It may sound boring, but I really appreciate it.
When I first started hiking, I wanted the most amazing scenery in the world to be thrown in my face constantly.
Now I still love it, but I'm also happy to walk around in beautiful rural countryside.
And I think I love cross-country ski trails.
It's a great way to discover a country, with its most beautiful corners and others that are less spectacular but have their own charm.
And it's lambing season, so it's kind of cute to see these little guys running around.
I arrive late afternoon in Balerno, 10km/6 miles from Edinburgh and hope to find a decent spot to plant before.
But it's not ideal and I plan to push until 8-9pm to get a hostel in town.
But I finally manage to find a place.
Which is great because I didn't want to walk late!
Affiliate Disclosure
This website contains affiliate links, which means The Trek may receive a percentage of any product or service you purchase using the links in articles or advertisements. The buyer pays the same price as they otherwise would, and your purchase helps support The Trek's ongoing goal of providing you with quality hiking advice and information. Thanks for your help!
To learn more, please visit the About This Site page.