Day 15
The night was restless, the wind and the rain kept me awake for quite a while.
And it doesn't stop in the morning.
But it is very beautiful and the weather makes it dramatic.
Our original plan was to stop at a bothy for lunch, then climb a munro and back to the bothy.
But it doesn't look like that will happen with this weather.
Gil jokingly says it'll clear up and we'll be able to come back up.
It turns out he's right and after lunch Gil and I make the trip to our first munro while Peter watches over his dog.
And it's definitely worth the detour, it's absolutely beautiful.
Munro bagging is a big thing in Scotland.
These are peaks over 3000ft/914m and there are 282 of them.
Traditionally if 2 munros are very close, you have to go down after the summit of the first, then go up for the second.
It looks like a mission…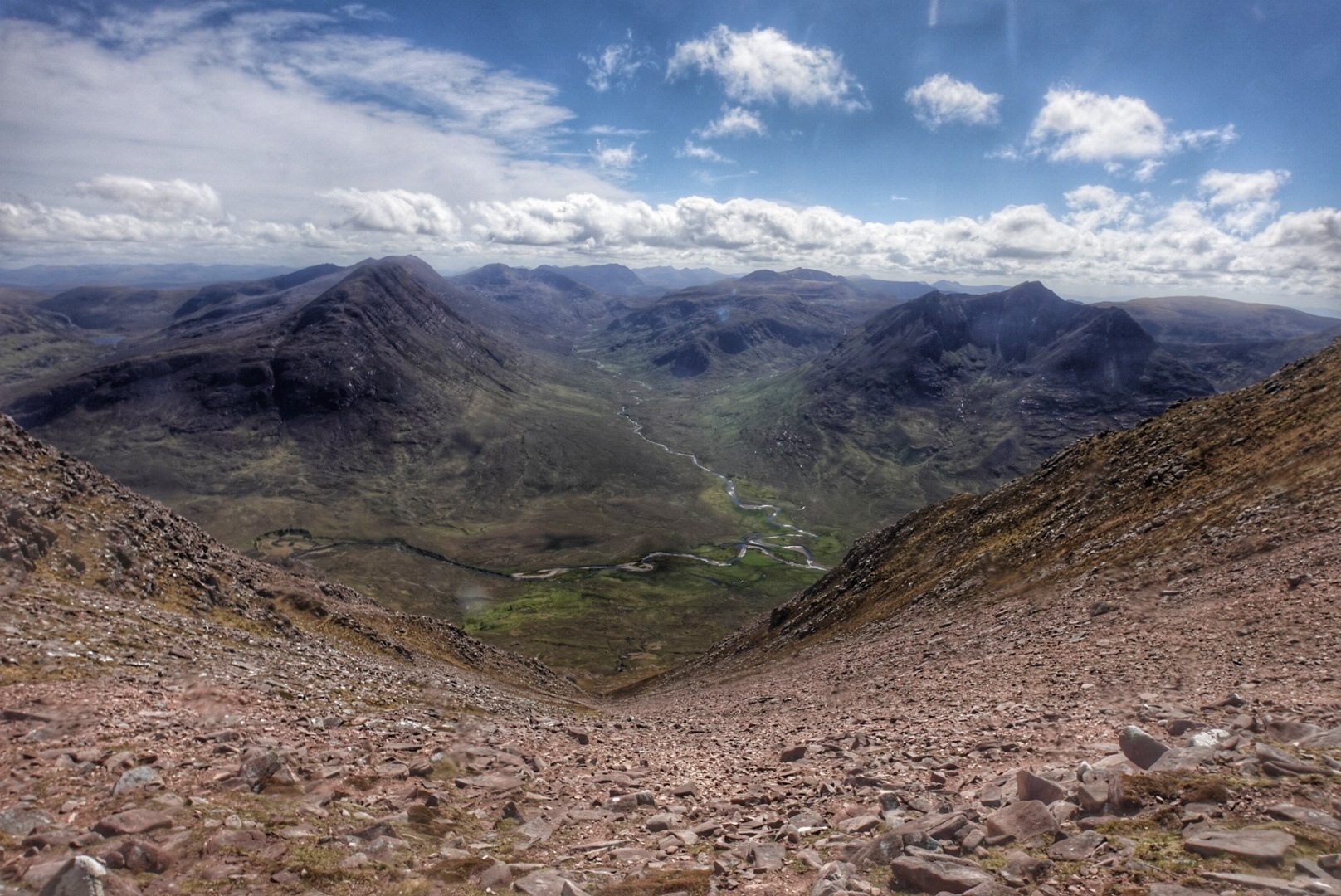 Peter bagged all the munros in one summer and it looks pretty cool, although obviously it can be frustrating when you don't have your eyesight.
I had planned to climb Ben Nevis, Britain's highest peak, as it will be in my way at some point, but apparently it's in the clouds 9 days out of 10, so I don't don't really count on it.
Day 16
Today is a fairly short and easy day.
We come to the road that goes to Ullapool where Peter is hitchhiking to pick up his car.
We booked into a hostel 10km out of town but it's beer time so we grab some beer in town first.
The hostel is quite nice and it's nice to get clean even though there is no washing machine which is a bit weird for a backpackers hostel.
We head back to town where all the restaurants are full, which is odd as the town seems pretty quiet.
So it's fish'n chips.
Day 17
Peter and Gil take me back to the track and it's time to say goodbye.
Gil has a flight to Israel tomorrow morning and Peter returns to work the day after tomorrow.
This is the third country where we meet Gil and I wonder what will be the next.
It was really cool to hike with these guys and a nice break from the solitude of (mostly) solo hiking I've been doing for the past few years.
Gil said that if I kept hiking like this, I might be the first person to "yo-yo the world", i.e. walk twice the distance of the circumference of the globe.
I like the expression, but I guess it's been done by others and I'm not quite there yet.
It is a very nice walk in the morning, passing by Glen Douchary and the river Douchary and its beautiful little gorge.
The rest of the day is spent on fairly easy forest roads, so I'm making good progress.
I spend 2 beautiful evenings during the day, but it's early, so I don't stop.
I find a small hut later, which will be well sheltered from the wind/rain that might come.
Day 18
It's a tough day.
The terrain is very difficult all day, I walk either on ankle twist clumps, slippery rocks or an endless mud trail.
It's been muddy since I've been in the Highlands, but this is next level mud fest.
I didn't count the times I fell on my ass, let's say it was a lot.
Including a scary one where my head nearly hit a rock.
Luckily the weather wasn't too bad and the afternoon was truly spectacular in terms of scenery.
And I knew that a nice little Bothy was waiting for me at the end of this rather long day.
Day 19
Another pretty tough day.
The ground does not improve much and it rains all day.
And of course there is a cold wind that goes with it.
It's very exposed for a long time and I can't even find a tree to sit under.
I have the fastest lunch ever and continue hiking without a break until I stop at 7pm.
Some sections are difficult to navigate as there is no trail to follow and it is very foggy.
If I don't check my GPS every 2 minutes I end up losing the trail and feeling like I'm walking through an endless swamp.
Too bad there is so much fog because the area looks amazing.
My feet have been wet for about 9 days now and it's starting to hurt walking like this…
It's a good thing that I've never been too picky with my campsites because I just can't find a decent one and end up pitching my tent on a pretty bad spot that looks like the best that I can find.
Affiliate Disclosure
This website contains affiliate links, which means The Trek may receive a percentage of any product or service you purchase using the links in articles or advertisements. The buyer pays the same price as they otherwise would, and your purchase helps support The Trek's ongoing goal of providing you with quality hiking advice and information. Thanks for your help!
To learn more, please visit the About This Site page.