Eilish McColgan broke her mother's Scottish 10,000m record in Hengelo (photo via HBK Games)
Scottish record alert! Jake breaks Men's Mile record after 40 years
Jack Lawrie certainly did not know what he was about to launch when he took the start in Eisenstadt in Austria on the evening of Thursday 2 June.
Less than a minute later – or 50.07 seconds, to be precise – Fifer had posted a new Scottish record for the men's 400m hurdles with his own lifetime record clinching a mark that had stood for a few decades.
Fast forward a fortnight and, shortly before 9 p.m., Jake Wightman was the athlete celebrating a new Scottish record in the Men's Mile after a strong run at the Diamond League Bislett Games meet in Oslo.
With a neat summary, from Jack to Jakethe latter's 3.50.30 run for third place made it a "fab five" round of national records achieved at the senior level in exactly two weeks.
Marks fell in hurdles, sprints, discus and endurance (both long distance and middle distance) and it makes great reading for athletics in Scotland and our wider community around the world.
No matter how the summer track and field season goes — and there are some big opportunities coming up over the next two months — the class of 2022 is making some pretty big impressions on all-time rosters.
This is a huge credit and encouragement to athletes and coaches, as national records and topping the all-time list is excellence in athletics in a Scottish context. The clue is in the labels.
Here are the five Records made in the last fortnight. . .
Thursday, June 2: Jack Lawrie; 400m hurdles men with 50.07 in Austria
Monday, June 6: Eilish McColgan; 10,000m women with 30:19.02 in the Netherlands
Saturday June 11: Rebecca Matheson, Alisha Rees, Sarah Malone, Taylah Spence; 4x100m women with 44.75 in Switzerland (Equal record)
Saturday June 11: Nick Percy; Men's 64.95m discus in Wales
Thursday, June 16: Jake Wightman; Men's Mile with 3:50.30 in Norway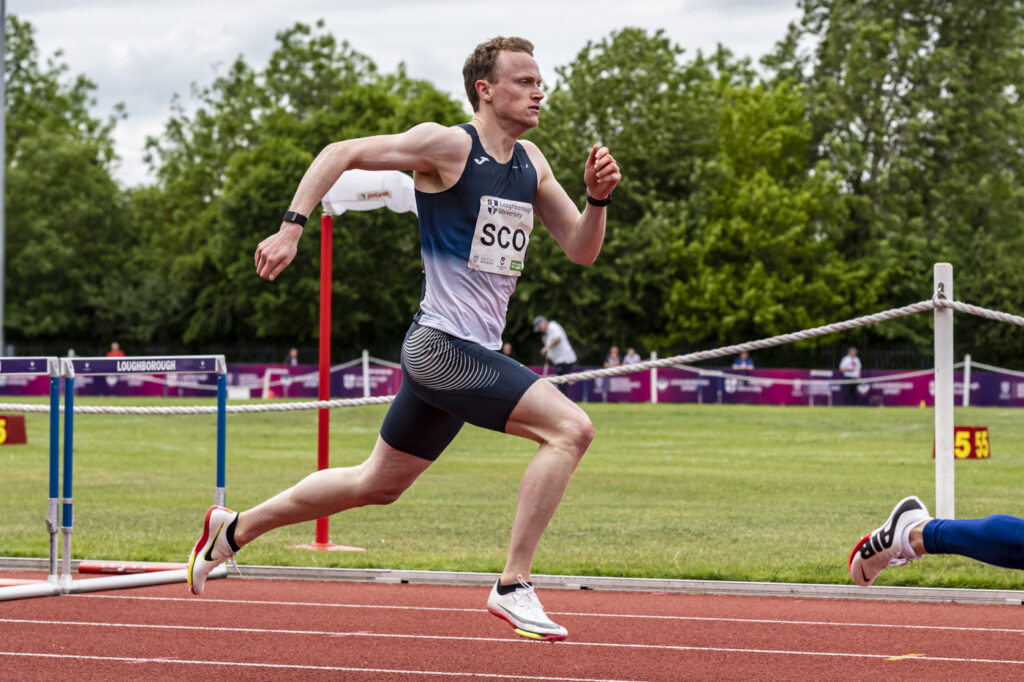 Jack Lawrie in action at Loughborough; his new national record in the 400m hurdles kicked off a fabulous fortnight (photo by Bobby Gavin)
Without apology to repeat ourselves (and there has been plenty of coverage of these achievements on our channels), we send our hearty congratulations to the athletes involved and their coaches and to the clubs who have played an important role in their development work. for a number of years.
"I don't think we can pinpoint exactly 'why now? in terms of breaking records, but it's a good sign," Jake said, in an interview with BBC Scotland.
"Records should be broken over the years. The world is changing and there are advancements in technology, equipment, etc. Or maybe one factor is just that there's a really big summer coming up with three major championships and people are performing to try to make teams.
'Achieving the Mile Record that stood for 40 years is special and, certainly in endurance, there aren't many left.
"They have been largely erased in recent years and that's good." I hope Josh (Kerr) and Neil (Gourley) and I may modify them again in the near future.
"The longer we can look at these Scottish rosters and see 2020, 2021 and now 2022 against the name of the holder, then I think the better for Scottish athletics."

Key words:
Alisha Rees, Eilish McColgan, Jack Lawrie, Jake Wightman, Nick Percy, Oslo, Rebecca Matheson, Sarah Malone, Taylah Spence